Here is a great article written by the Cocotherapy company about one of our favorite healthy dog treats/ products! Coctherapy coconut oil and coconut chip dog treats!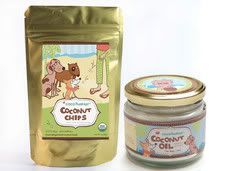 A delicious treat for your dog or cat, CocoTherapy® Coconut Chips are made from dehydrated organic coconut meat. The dried coconut flakes are made of pure, 100% organic coconut meat, with absolutely NO sugars, salt, preservatives, or chemicals added.

Our coconut chips are raw and dehydrated slowly at a low temperature, 98.6° F (37° C). This keeps the nutrients intact, resulting in a raw coconut that tastes fresh, has a wonderful texture, and contains all the rich nutrients found in fresh coconuts.

CocoTherapy® Coconut Chips provide highly digestible fiber to support and maintain gastrointestinal health, while providing all the nutritional benefits of coconut oil. All our pets absolutely love the rich, slightly nutty taste of the treats. Give a few treats throughout the day, or sprinkle in food.

Our coconut chips are the perfect, all natural alternative to all those yucky, over processed pet treats on the market that are made with artificial ingredients --- Plus they're totally delicious. We give our coconut chips to all our pets, including our birds and hamsters too!

BENEFITS OF COCONUT FIBER:
Rich source of dietary fiber
Supports digestive and intestinal health
Supports healthy weight management


Recommended amount to give: Give around 1-2 tsp per 10 lb body weight, 1-2 times daily, sprinkled on food. Give larger pieces as treats throughout the day as a treat. Pets love it! Make sure fresh water is available all day.