Dog Clothing : Dog Apparel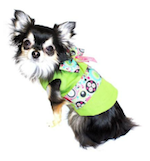 Dog Clothes is the best way to show your Puppy Love! 
Dog clothes is a want and a necessity for some dogs. Dogs love wearing dog clothes because they get more attention, and feel special dressed in it! There is nothing better than quality dog clothes and a happy dog to wear it!

Dog Clothes keeps your dog looking trendy, cute, and in-style!
Subcategories: