Create Your Personalized Dog Collars Here!
*ON THESE COLLARS WE WILL NEED YOU TO WRITE OUT YOUR DOG'S NAME IN THE CHECKOUT PORTION UNDER "Insert any Special Instructions" Box. This will help us create your dog's new custom name collar!
Personalized Dog Collars
These are the perfect collars for people who want a personal touch! Any name that can fit on the dog collars we can do. These collars can be done in a plain or bling lettering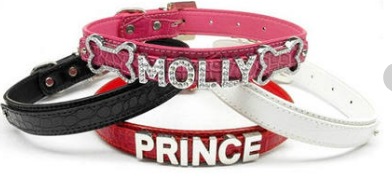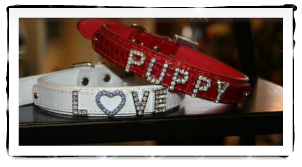 (*8 LETTERS on average is the most you can fit on a collar, but the bigger sizes may be able to fit more)
*Most of the time we are fully stocked on all colors of collars, but sometimes we may be out of a certain color. If this causes a problem with your order we will contact you immediately and ask if a color change is acceptable.


*You may add charms also (paws, hearts, butterflies, crowns, etc.) You may add these to cart from personalized dog collars general page!